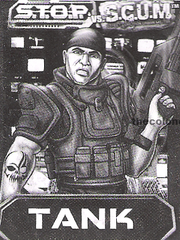 Codename: Tank
Real Name: Tanaka Bear
Position: S.T.O.P. Support-Weapons Specialist
Unit Name/Type: Team 'Alpha'; Patrol Group
Military Training: Ex-US Marine Copes Special Operations (MARSOC).
Specialty: Heavy Weaponry, Explosives and Demolitions.
Official Biography
Edit
Tank saw extensive action in both the Cartel Narco Wars and the Armageddon War of the Middle East. Descending from a long line of Cheyenne Dog Soldiers, his Native American warrior blood runes strong in his veins. An incredible tracker, hunter, survivalist and master of guerrilla warfare, he whats to be the first to go in and the last to leave. Tank joined forces with S.T.O.P. to help re-establish order in the streets and battle the anarchy being spearheaded by S.C.U.M.
Additional Information
Edit