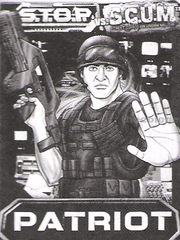 Codename: Patriot
Real Name: Patrick O'Malley
Position: S.T.O.P. Special Tactics Specialist
Unit Name/Type: Team 'Alpha'; Patrol Group
Military Training: Ex-Irish Army Ranger (ARW).
Specialty: Unconventional Warfare, Counter Terrorism, and Counter-Insurgency.
Official Biography
Edit
Patriot trained extensively with the US Army Green Berets and US Navy SEAL (Sea, Air and Land) Teams. He is a master of hand-to-hand combat and holds several advanced belts in Jiu-Jitsu and Kuidondo. Patriot saw heavy action in the Armageddon Wars in the Middle East arena. After the subsequent collapse of world government, he joined forces with S.T.O.P. to help re-establish order in the streets and battle the anarchy being spearheaded by S.C.U.M.
Additional Information
Edit